Bling Solution - Signature Line Light 8%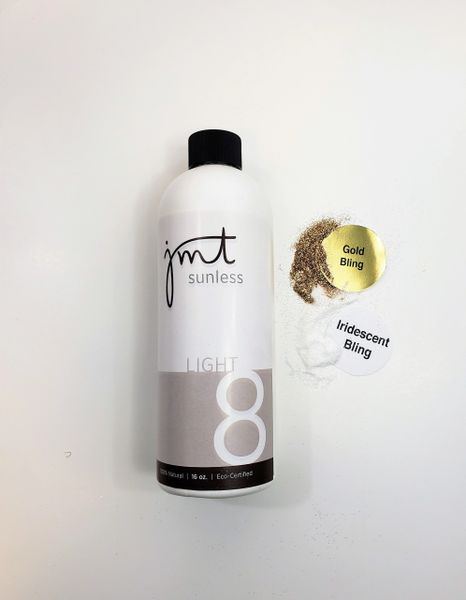 Bling Solution - Signature Line Light 8%
Jazz up your JMT Solutions with our Bling Line.  Offered in Gold and Iridescent
With 8% DHA our JMT Light Solution 8 is our lightest shade. Formerly called Treasure Bay, this solution is perfect for those who may want a light, natural-looking sunless tan. It is also a great choice for first time sunless tanners or those with very fair skin.
FEATURES:

JMT Sunless Triple Action Bronzer




8% Eco Certified DHA




Gluten Free




Vegan




100% satisfaction guaranteed



We have a solution to ensure nearly every skin tone can achieve almost any shade of sunless tan desired.  Our award winning solutions are available in 4 beautiful shades plus our amazing Rapid Tan. Each of these shades contains our Triple Action Bronzer which includes a three step activation process that can help the tan last up to 8-10 days.  Our sunless bronzer activates on days 1-2, followed by our Eco Certified DHA which activates from days 2-5 and finally our Eco Friendly Proprietary Blend which activates from 5-8 days … or longer.