Rapid Tan Violet Solution - Bling Line (16 oz, 32 oz)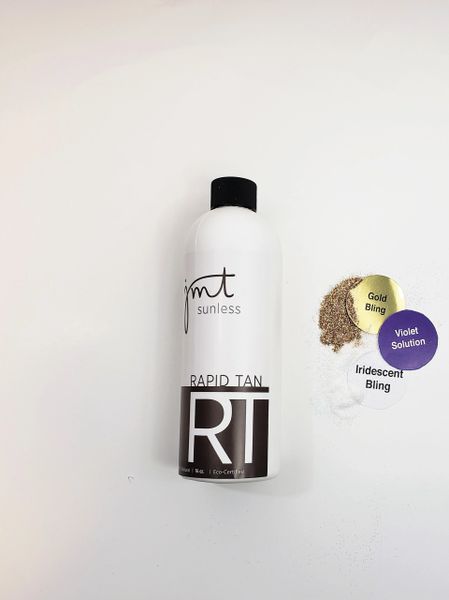 Rapid Tan Violet Solution - Bling Line (16 oz, 32 oz)
Add some fun to your next spray tan with our Bling Line. This line adds a little pizzazz to a gorgeous spray tan.  Our Bling Line is the perfect blend of our amazing Rapid Tan Violet Solution with a hint of shimmer, shine and bling! 

Available in: Gold or Iridescent
Also available in Rapid Tan Signature Solution - Bling Line, Violet Line or Signature Line 
Features:
Our amazing JMT Sunless Violet-based Solution with a beautiful touch of sparkle, shimmer and shine
Rapid Tan doesn't require a long wait time to shower after tanning.
See our Rapid Tan Shower Guide below to control the level of tan
JMT Sunless Triple Action Bronzers
Fast-acting Eco Certified DHA
100% satisfaction guaranteed
Rapid Tan Shower Guideline:

Light Tan: wait 2-3 hours before showering
Medium Tan: wait 3-4 hours before showering
Dark Tan: wait 4-5 hours before showering 
Rapid Tan continues to develop the tan 12 hours after showering.  
Listen to what Mandy has to say about Rapid Tan Solution: Click Here

About our Violet Line: With many of the same natural ingredients found in our Signature Line, our Violet Line also includes the perfect amount of the color violet. This results in a much deeper shade of brown.  This line is especially ideal for those with a yellow or a golden hued skin tone. Violet tends to counteract yellow or golden skin tones creating a darker and richer shade of brown.