Body Products Sample Pack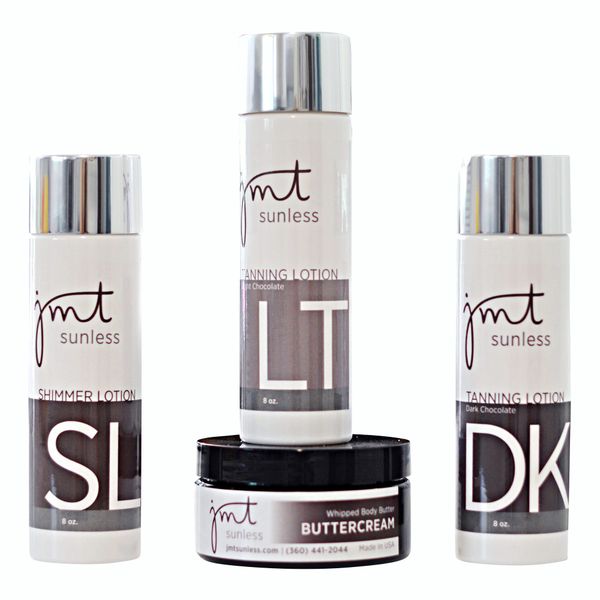 Body Products Sample Pack
(1) 8 oz bottle of Dark Tanning Lotion, (1) 8 oz bottle of Light Tanning Lotion, (1) 6 oz Jar Buttercream and (1) 8 oz bottle of Shimmer Lotion

Dark and LIght Tanning Lotions/Tan Extenders:
Yum!  Chocolate.  With a hint of chocolate our Dark and Light Chocolate Tanning Lotion smells delicious while moisturizing and preserving the glow of your tan. Our Dark Chocolate Tanning Lotion with 10% DHA is rich with color and blended to achieve a deep, dark, sunless glow.  You pick your shade by choosing the level of daily application.  More applications equal a darker, richer tan.  Our LIght Tanning Lotion  With 8% DHA our Light Chocolate Tanning Lotion is a self-tanner or great for touching up an existing tan. Blended to perfection this lotion leaves your skin  feeling (and looking) soft, silky and smooth.
Buttercream:
For those who love body butters, this is the thickest, richest, most hydrating cream yet.  Using the highest quality all-natural ingredients, we have created a body butter that will promote not only hydration but also promotes anti-aging and repair. Use daily to keep skin beautiful and ready for that ultimate JMT Sunless 
Shimmer Lotion:
This lotion is perfect for those who love to make their tan stand out with a shimmer on their skin. Light & unscented this shimmer lotion is the perfect way to show off your tan! 
Buttercream Scents:
Brown Sugar

-

Yummy Brown Sugar with a hint of spice 
Cucumber/Melon
-Fresh, 
Clean, Crisp. The perfect blend of cucumber with a melon twist.
Creamsicle

-Sensual Vanilla with a refreshing orange twist. 

Coconut

-This scent will take you immediately to the tropics!. Very seductive! 

Chocolate

-Smells like a freshly made milk chocolate dessert!

 

Peach

-Sweet, Tangy, Complex & Refreshing.

 



Pina Colada

-Tropical pineapple with coconut and creamy vanilla notes. Heavenly!

 
Vanilla
-Luxurious sweet vanilla notes, with a sprinkle of spice & dash of roasted hazelnuts.
Tropica

l
-The same scent as our signature Jamaica Me Tan sunless solutions