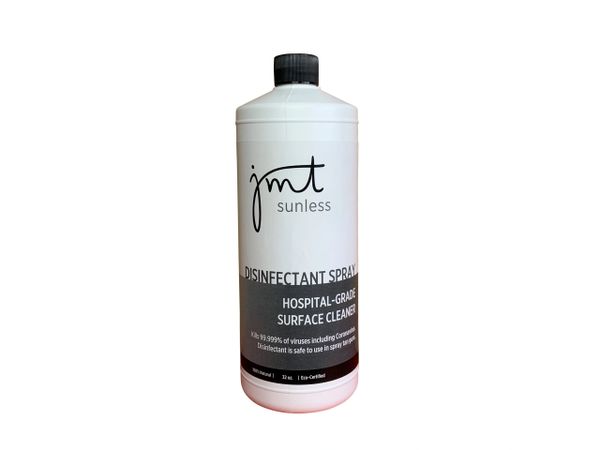 Disinfectant Spray
Now more than ever it's important to make sure you have the best cleaning supplies for the safety of your clients and the technicians. You can use this disinfectant on your spray gun and other surfaces that need to be cleaned and sanitized. Our JMT Sunless Disinfectant is formulated with a hospital grade surface cleaner that kills 99.999% of viruses including Corona virus. 
Here's how to use it effectively:
Thoroughly clean and wipe down hard surfaces prior to spraying JMT Sunless Disinfectant Spray. 
Spray JMT Sunless Disinfectant about six inches from the spray gun or other surfaces with an even layer to moisten it. 
Allow JMT Sunless Disinfectant 10 minutes to air dry. DO NOT WIPE DOWN THE SURFACE AFTER SPRAYING. Our disinfectant should be used after your cleaning to ensure the surfaces are completely sanitized. 
JMT Sunless Disinfectant Spray starts to kill bacteria within 60 seconds, This hospital grade Disinfectant Spray kills 99.999% of bacteria, including the corona virus.  
Use 1 ounce for every 100 square feet of surface.