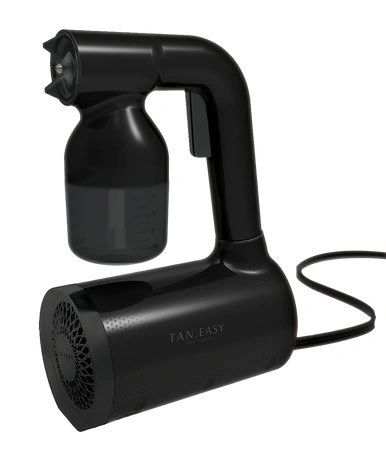 Handy Tan


Seriously, you have to have this!  The Handy Tan is a lightweight handheld spray tan machine that combines a spray gun and machine into one compact system.  This all-in-one professional handheld spray tan system features Micro Whirlwind Technology. It is the next generation in professional tanning. The super fine air brush mist and touch dry finish help prevent that sticky residue feeling. The Handy Tan is without a doubt the ultimate mobile or salon convenience system for all industry professionals   Includes: Handy Tan, 8 ounces of Medium 10% solution and an exfoliating mitt.
Just getting started in the spray tanning business?  The Handy Tan is easy on the pocketbook!
Click here for Mandy's Take on the Handy Tan
Features

Compact and easy to use
Portable - suitable for mobile or in-salon use.  
The size of a hair dryer.  Fits in your luggage when you travel.
Ergonomically designed and lighter than most hair dryers
Priced very competitively 
Great for home use 
Perfect for traveling
Decreases your chance of overspray with over 85% of the spray tan solution delivered onto the client
Less chance for the "orange effect" caused by too much solution
Air Smart switch with heat ensures a flawless spray tanning result

Perfect for salons to have on hand as a backup spray gun should your primary spray gun clog or needs temporary maintenance. 
"The Handy Tan is amazing!! If you're thinking of buying it - do it!! I think I like it better than my more expensive gun."

Megan R.