Level III Sunless Tanning System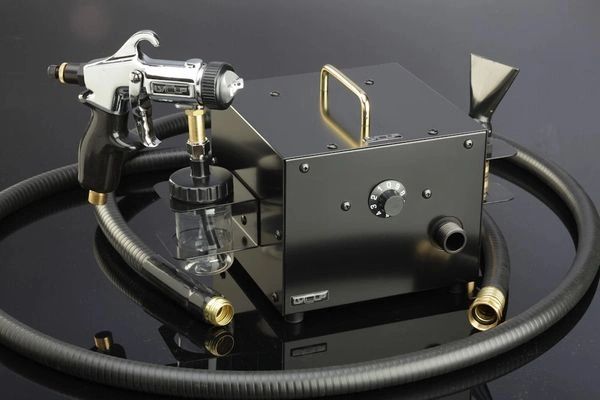 Level III Sunless Tanning System
If you are serious about starting a spray tanning business this is the unit highly recommend. The LVCLP system offers you the newest technology and so much more. Worth the investment. Shipping is included in the price if shipped in the USA.   Your new LVCLP unit comes a .pdf copy our our JMT Sunless Manual and 16 ounces each of our JMT Sunless Signature Line Light 8%, Medium 10% and Dark 12% and Barrier Cream. (Tanning tent is an option in the drop down menu)
CHECK OUT THESE FEATURES! 
• LVCLP System provides a more concentrated application of tanning solution with less overspray, reduces the amount of solution used, decreases the time for application saving money for the user 
• Elegant Black/Brass design professionally appealing to client in salon or other setting 
• Compact size makes it easy to fit in any salon or to take mobile-8"wide x 8" long x 6 ½" high 
• Lightweight, easy to carry - 7 ¼ pounds 
• Quiet Sound allows for conversation with client during tanning session 
• Ergonomic Design allows user to easily snap on/off hose, gun and accessories 
• Comfort Grip feels soft on hand and allows user to better grip gun 
• Dryer first of its kind, dries client faster and allows user more time to spray tan other clients 
• European On/Off allows spray tan professional to turn on/off system and adjust variable speed setting all in one motion 
• Variable Speed Setting allows professional to adjust speed to compensate for changes in solution viscosity, temperature, humidity or spraying preference 
• Soft, Flexible, Lightweight 10' hose provides user mobility and professional look 
• Two Additional Cups provided to keep solution ready for next spray tan 
• Spray Gun Wall Mount professionally designed to hang spray gun when not in use or when assisting client 
• Simple, Easy to Work on Design allows virtually anyone to clean or repair system & gun 
• Complete Replacement Parts easily available for LVCLP system & gun 
• 4 Year Warranty with registration of LVCLP system 
• Made in America, superior quality and service 
• 120 or 220 Volt availability for the United States, European Countries, Russia, Australia, South Africa, New Zealand and other countries 
• Dependability- system supported by leading manufacturer of spray systems for over 25 years.
AND MORE...
·       Made in the USA 
·       (4) Year Warranty
·       Dryer attachment
·       Instruction Manual  
·       Shipping Included in the United States

Check out our tanning packages if you want to save on the unit plus accessories and solutions to help get you started