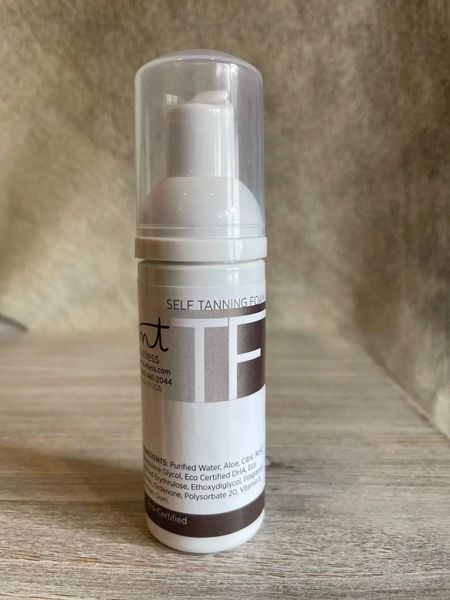 Self Tanning Foam (2oz)
* NEW *  Travel size Tanning Foam
Our Self Tanning Foam is another great at home product that is easy to apply and results in a beautiful tan. The Self Tanning Foam is a light weight foam that is quick-drying and doesn't leave a sticky feeling. Loaded with hydrating properties and a fun tropical scent, this is our most advanced formula yet. 
Our Self Tanning Foam starts to develop within hours of application. You can control the level of tan you desire depending on when you shower after application.
2 hours = light sun kissed glow
4 hours = medium shade of bronze
8 hours+ = deep, dark shade of bronze  
Also available in: Case of 4, Self Tanning Foam - Signature Line

Features:
Hydrating properties including avocado, coconut, aloe and vitamin D
100% satisfaction guarantee 
Easy to use instructions:
For best results exfoliate prior to applying the Self Tanning Foam 
Using our JMT Sunless Tanning Applicator Mitt apply the Self Tanning Foam generously on the mitt and rub it onto your skin using a circular motion. Be sure to overlap for an even application. Skip your hands and feet on this step.
When finished with the full body, use the leftover product on the mitt to lightly rub into your hands and feet.
Keeping your skin moisturized is the key to long lasting results. To maintain your sunless tan you can use our JMT Sunless Tanning Lotion or reapply the Self Tanning Foam (once a week). 
Our 2 ounce size offers 2 full body tans and many touch ups.  Perfect for vacations and weekend get-a-aways.