Self Tanning Serum | pack of 4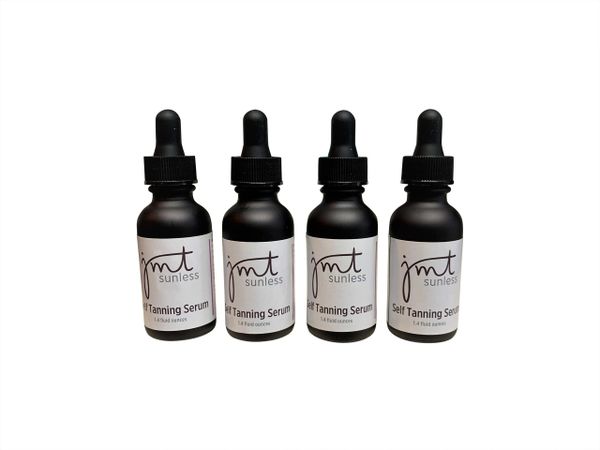 Self Tanning Serum | pack of 4
It's like Magic.    JMT Sunless Self Tanning Serum is here.
You're going to love this easy to use wonder product for you and your salon customers. 
Now you can use your favorite moisturizer to achieve a sun-kissed tanned glow. JMT Sunless Serum is formulated to balance out the skin and improve imperfections. No streaking, no smells and no orange tones.  You control the level of color.  Just add JMT Sunless Serum to your daily or nightly routine.  The color will deepen for 6-8 hours and will continue to develop for up to 24 hours, even after washing.   Our serum includes hydrating properties such as avocado, coconut, aloe and vitamin D.  Vegan, cruelty free and gluten free.
This serum is so easy to use:  
For the face add 7-12 drops to your daily or nightly moisturizing routine and mix well. Apply evenly in a circular motion. For body add more drops as needed.  Color will vary based on amount of drops and types of lotions used. Have fun experimenting and find your perfect tan
Suggested Retail:  $32