Spray & Glow Refill Bottle (16oz)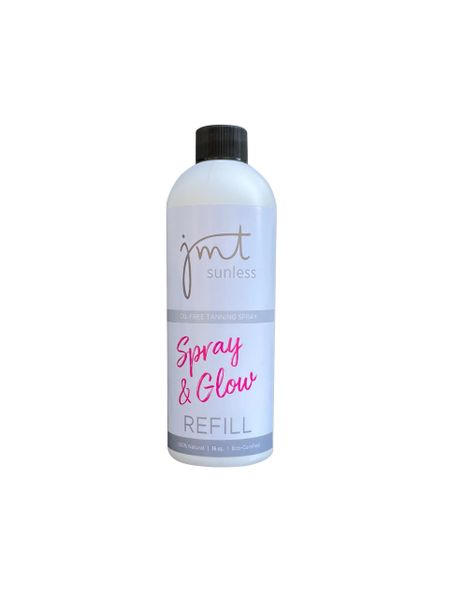 Spray & Glow Refill Bottle (16oz)
16 ounces to easily refill your Spray & Glow Spray Bottle.  Spray & Glow is a new way to achieve a beautiful JMT Sunless tan at home. Spray & Glow is quick, easy to use and you will love the results. Spray & Glow is formulated to go on light and colorless. Simply mist it on, use our Applicator Mitt for an even, streak free tan and BOOM ... watch your gorgeous tan develop over 4 to 6 hours. 
Colorless and odorless
Dries in minutes so you can get dressed after applying
Easy to apply
Vegan and Gluten Free
8 oz bottle with spray nozzle 
Applications Directions:
Shower and exfoliate with JMT Sunless Deep Cleansing Exfoliating Mitt prior to application
Spray on to body and blend with JMT Sunless Applicator Mitt for a streak free tan
Tan your hands and feet last using a light mist and blending with your applicator mitt
If you desire a darker color apply another layer of product on the areas you would like more color
Spray & Glow develops over 4-6 hours.