Violet Solution: Quick Dry (32oz)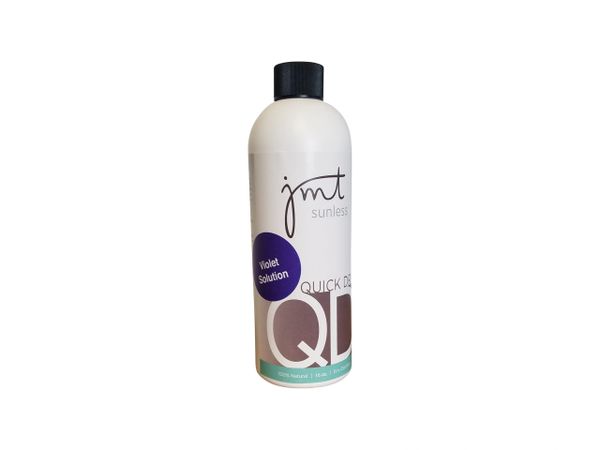 Violet Solution: Quick Dry (32oz)
You want quick.....with no stick? JMT Sunless Quick Dry in our Violet Based solution is perfect for all of those customers who don't like that sticky-tacky feeling after a spray tan while seeking a deep, dark bronze sunless than. This fragrance-free solution is perfect for customers who are sensitive to odors. For a quick odor-free tan without the stick, try JMT Quick Dry solution.   
About our Violet Line: Our new Violet Line is the perfect blend to create a deeper shade of brown.  This line includes many of the same ingredients we use in our Signature Line plus the perfect blend of violet.
While our Signature line is perfect for achieving a natural bronze glow, our JMT Sunless Violet Line is ideal for those with a yellow or golden base to their skin tone.  Our violet solutions will counteract these undertones and bring out a beautiful dark, brown that will last for days.  
Listen to what Mandy has to say about Quick Dry: Click here
Listen to what Mandy has to say about the Violet Line: Click here
* Available in both our Signature Solutions or our Violet-based Solutions
* You won't feel sticky or tacky right after the spray tan
* Fragrance free
* A beautiful shade of medium bronze (the shade can easily be adjusted by spraying a little more or a little less)
* Unlike other solutions less is more (you will use 1/2 the amount you normally use with the Quick Dry solution)
* Natural ingredients
* 100% satisfaction guaranteed