Violet Solution: Rapid Tan (128oz)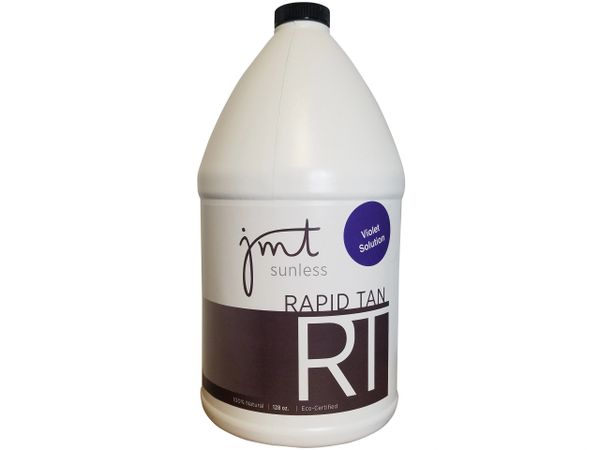 Violet Solution: Rapid Tan (128oz)
ORDER BY THE GALLON AND SAVE $94.00
4 - 32ounce bottles =  1 Gallon 
Need a sunless solution that doesn't require a long wait time to shower? Our Violet-based Rapid Tan is it! Rapid Tan is specially formulated with fast acting Eco Certified DHA to help achieve a beautiful sunless tan while shortening the wait time to shower. Now you can reach that deeper darker vacation tan using our Rapid Blend with the violet base.   Click here to learn more about how Rapid Tan Solutions work.
About our Violet Line: Our new Violet Line is the perfect blend to create a deeper shade of brown.  This line includes many of the same ingredients we use in our Signature Line plus the perfect blend of violet.
While our Signature line is perfect for achieving a natural bronze glow, our JMT Sunless Violet Line is ideal for those with a yellow or golden base to their skin tone.  Our violet solutions will counteract these undertones and bring out a beautiful dark, brown that will last for days.  
Listen to what Mandy has to say about the Violet Line:Click Here
RAPID TAN TIME CHART - Rapid Tan can continue to develop a tan 12 hours after showering.  
Light Tan: wait 2-3 hours before showering

Medium Tan: wait 3-4 hours before showering

Dark Tan: wait 4-5 hours before showering 
FEATURES:
Available in both our Signature Line and Violet Line

JMT Sunless Triple Action Bronzer

Eco Certified Fast Acting DHA

Gluten Free

Vegan

100% satisfaction guaranteed